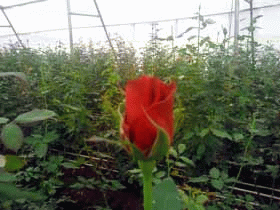 Farm Location & Climate
The farm is situated in the Government earmarked site for Floriculture at Talegaon, near Pune, a metropolis in India. The Floriculture Park of 150 Hectares is strategically located in surroundings along the Banks of the Indrayani River. The city, having a green cover of over 40% is situated at an altitude of 559 metres above Sea Level and enjoys a temperate climate ranging between 15 degrees to 35 degrees C. The climate at the farm is very conducive to the growth of flowers especially Roses.
Farm Access: The farm is well connected by Road and Rail to International Airports, which is a very important pre-requisite for shipping perishables such as Roses to customer destinations all over the world. It is 40 Kms from Pune and 140 Kms from Mumbai. The expressway connecting Mumbai and Pune is just 7 Kms from the farm site.
Farm Enviornment:
The company places quality, reliability and customer loyalty amongst its main priorities. The company is committed to protection of the natural environment, safe production of cut flowers and promotion of a safe working environment for employees. The farms are equipped with state-of-the-art planting, harvesting and storage machines and techniques:
Farm Facilities:
The infrastructure at the farm comprises of Green House Farm Plots, Well Equipped Office, Grading & Packing facility, Cold Store, Water Storage, and Executive & Staff Quarters.